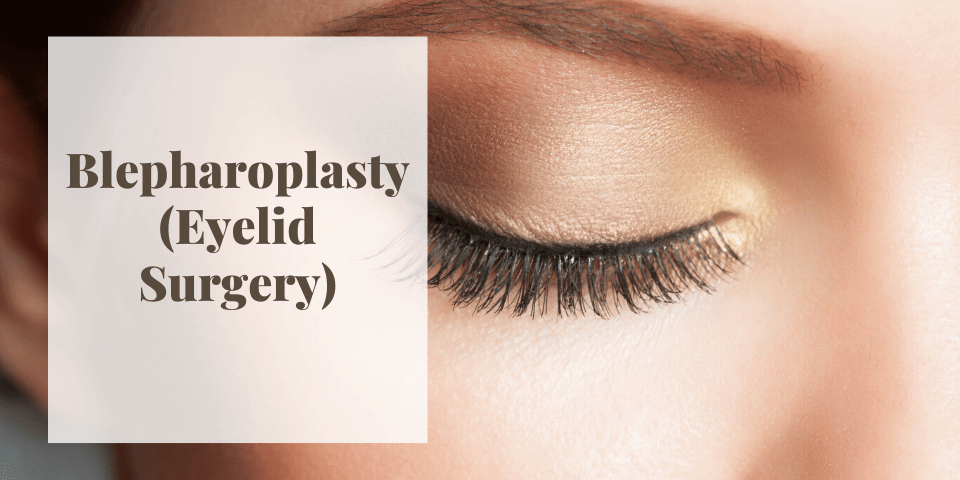 Blepharoplasty is a type of surgical procedure that repairs droopy eyelids. As you age, it's normal for the eyelids to stretch and the muscles to weaken. When this happens, excess fat can gather above and below the eyelids, giving you the look of sagging eyebrows, droopy upper lids and bags under the eyes. Not only does this make you look older, but also it can affect your vision.
With blepharoplasty, all of these problems are fixable. The end result is smoother skin, more alert eyes and a younger looking face. Plus, if you're experiencing vision problems from the sagging skin, these can be fixed during the procedure as well.
To determine if blepharoplasty is right for you, schedule a consultation with Dr. Shahin Javaheri.
In the meantime, here is more information about eyelid surgery and the benefits and risks to expect.
What is Blepharoplasty? Why is it Done?
Blepharoplasty is a type of plastic surgery that corrects eyelid deformities, defects and disfigurations. Because this procedure is personalized to your needs, it allows plastic surgeons to aesthetically modify the eye region on the face to help you look younger and more alert.

People choose to have blepharoplasty done for both cosmetic and functional purposes. Sometimes it's combined with another procedure like a facelift, brow lift or skin resurfacing. The most common reason why clients request this procedure is to address:

– Droopy upper eyelids
– Bags under the eyes 
– Excess skin on the upper eyelids 
– Excess skin on the lower eyelids
– Vision problems due to sagging skin
What Does a Blepharoplasty Procedure Entail?
Even though our doctor will be working in a highly sensitive area, blepharoplasty is an outpatient procedure. This allows you to have the surgery done in an outpatient setting and return home for rest on the same day. Here is what you can expect from the procedure: 

– Numbing medication. Dr. Shahin Javaheri will inject your eyelids with a numbing medication. You will also get an IV with medication to help you relax. 

– Upper eyelids. Typically, the procedure begins with the upper eyelids. Dr. Shahin Javaheri cuts along the fold of the eyelids, removes excess skin, muscle and fat and closes it back up. 

– Lower eyelids. Next, the doctor moves onto the lower eyelids. He makes a cut below your lashes and removes or redistributes fat, muscle and skin and closes the cut. 

– Ptosis. Some clients opt for ptosis, a procedure that provides additional support to your eyebrow muscles. Dr. Shahin Javaheri can help determine if this should be part of your treatment. 
Does Eyelid Surgery Have Side Effects?
After blepharoplasty, you will be moved to a recovery room until you are ready to go home. It's normal to have some temporary side effects like: 

– Blurred vision
– Watering eyes
– Light sensitivity 
– Double vision
– Puffy eyelids
– Swelling or bruising
– Pain and discomfort 
What is the Recovery Process Like?
There are many things you can do to keep yourself comfortable in the first days after surgery. Typically, we recommend that our clients use eye packs or cool compresses to dull the pain and reduce swelling. Keeping your eyelids clean using the prescribed eye drops and ointments is important as well, as this reduces the risk for infection. 

Other things to avoid for the first week or two are: 

– Wearing contacts 
– Heavy lifting or straining 
– Strenuous exercises 
– Swimming 
– Rubbing the eyes 
– Smoking 
– Taking aspirin, ibuprofen, naproxen or other herbal supplements, as they can increase bleeding (we recommend Tylenol for pain)

Usually, clients are able to return to normal activity within 10-14 days. However, scars and surgical cuts can take several months to heal and fade. During the healing process, make sure you take extra special care of your eyelids to protect them from sun and wind damage.
What Results Should I Expect from Eyelid Surgery?
Our clients are generally very satisfied with the end result from blepharoplasty. Many report feeling younger and more confident. For those who opt for eyelid surgery for functional reasons, they are also happy to have improved vision back. 

For many clients, the corrections made during the surgery last a lifetime. For others, droopy eyelids can recur. This does not happen because the procedure is ineffective but rather because the natural aging process continues. Maintaining good sun protection and allowing the healing process to occur naturally will help preserve the results.

Also, remember that everyone responds to surgery differently. This is why it's important to choose a qualified plastic surgeon like Dr. Shahin Javaheri who will discuss your personal risk factors and expectations. While blepharoplasty is an overall successful procedure, you may not be able to achieve the desired effects with one surgery.
Am I a Good Candidate for Blepharoplasty?
Our plastic surgeon can help determine if you are a good candidate for blepharoplasty. Many factors are taken into consideration, but generally speaking, we consider good candidates to be: 

– Healthy individuals 
– Nonsmokers 
– People with a healthy outlook 
– Individuals with impaired vision 
What is the Average Cost of Blepharoplasty in San Francisco?
On average, an upper blepharoplasty in San Francisco costs around $3,000, and a lower blepharoplasty costs around $4,000. Of course, these are average prices that may be higher depending on certain factors, such as the extent of the surgery, the operating room and the surgeon's fees. 

It's typically more cost effective to combine upper and lower eyelid surgery, as you can save on hospital costs, surgeon fees, anesthesia and more. If you choose to have both upper and lower blepharoplasty, you can expect an average price of $5,000 – $6,000.

Eyelid Surgery (Blepharoplasty) Online Consultation
Are you ready to learn more about blepharoplasty and how it can give you the fresh, youthful appearance you're looking for? Contact Dr. Shahin Javaheri to schedule a consultation.